I first joined in with the Me and Mine linky back in October with a pic of myself heavily pregnant with Andrew and Izzy at a family wedding. I remember thinking that the next time I joined in there would be another face in the photo and it didn't seem quite real. Fast forward 4 weeks and its very real. Chloe has arrived and it feels like she has always been here.
I was tempted to use some Instagram filtering magic on this photo to make me look less tired/slimmer etc etc but hey I gave birth 10 days before this was taken and the main thing I notice when looking at it is how happy I look with my small but complete family.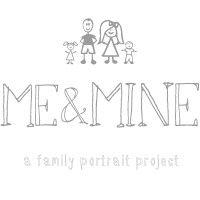 I wish I had discovered this linky earlier in the year as it's a great idea to take more family photos but I look forward to next years Sibling linky as I already have some fabulous photos of Izzy and Chloe and also the Me and You linky as I would love some more pics of me and my OH.